No-Bake Oreo Cheesecake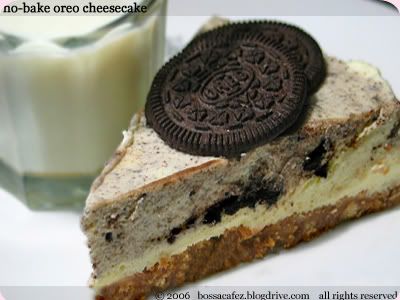 (makes one 18cm cake)
ingredients (base) :

110g digestive biscuits, chopped into fine crumbs
40g melted butter
(filling) :

250g cream cheese, room temperature
45ml milk
50g icing sugar
1 tbsp vanilla essence or rum
8 oreo cookies (coarsly chopped)
4 oreo cookies (finely chopped)
250ml whipping cream
1tbsp gelatine powder
10ml lemon juice
3 tbsp boiling water
method :
1. mix biscuit crumbs & melted butter together and press firmly onto the base of cake tin. chill for 30 minutes.
2. beat whipping cream with electric beaters until 70% stiff or until mousse-like.
3. double-boil gelatine, lemon juice & boiling water until totally dissolved. keep warm. (to double-boil, heat a pot filled with water and place another bowl inside the pot & gelatine, lemon juice & boiling water into the bowl).
4. beat cream cheese, icing sugar, milk and vanilla essence until smooth & creamy. blend in gelatine solution.
5. blend in whipping cream.
6. pour 1/2 the cheese mixture onto the base. chill for another 15 minutes.
7. stir in finely chopped cookies into the other 1/2 of the mixture. mix well.
8. sprinkle coarsely chopped cookies on top of the first half of cheese mixture.
9. pour in the other half of the cheese mixture.
10. chill for 3 to 4 hours before serving. decorate as desired.